Penelope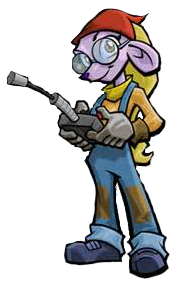 Character Info

Edit
Playable?
Yes
Episode Unlocked
1
Abilities
RC Car

RC Helicopter

RC Plane

RC Tank

Jobs
Imagine it! A world ruled by technology, technology ruled by you! The possibilities, the power, the rulership! Imagine it!
~Penelope, slowly driving herself crazy.
Despite only being unlocked at the end of episode 1, Penelope becomes a tertiary protagonist. In episode 1 and the end of episode 2, she becomes the Cooper Gang's main objective.
Penelope has major game play changes. Rather than just playing her RC car and RC chopper, she can now be played like the other characters, and launches her RC vehicles through the quick select menu. She has modified her RC chopper, so now its very much like a mix of her RC chopper and Bentley's in Sly 2. She also can buy a RC plane and a RC tank. Her RC vehicles are her main form of attack, as she can take only a little damage and do even less. She has a few other abilities, such as being able to crawl under tables and can buy a jetpack.
Binocucom
Edit
Penelope lifts up her RC remote and looks through that as her binocucom. This suggest that her remote control has new features, such as an installed binocucom.
This page is underconstruction


This page isn't compleate. It may be to do with complex codding.