Violet Nightshade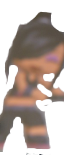 Character Info

Edit
| | |
| --- | --- |
| Townie or Commercial? | N/A Sim |
| Star Level | Star Level 5 |
| Role | World Famous Tennis Player |
| Residence Name | N/A |
| Number of Task | 0 |
Violet Nightshade appears in MySims 2 DS as a world famous tennis player. She is also One of the CEO's of The Sining Rackets. Her best friend is Annie Radd, who she travels the world with.
This page is underconstruction


This page isn't compleate. It may be to do with complex codding.